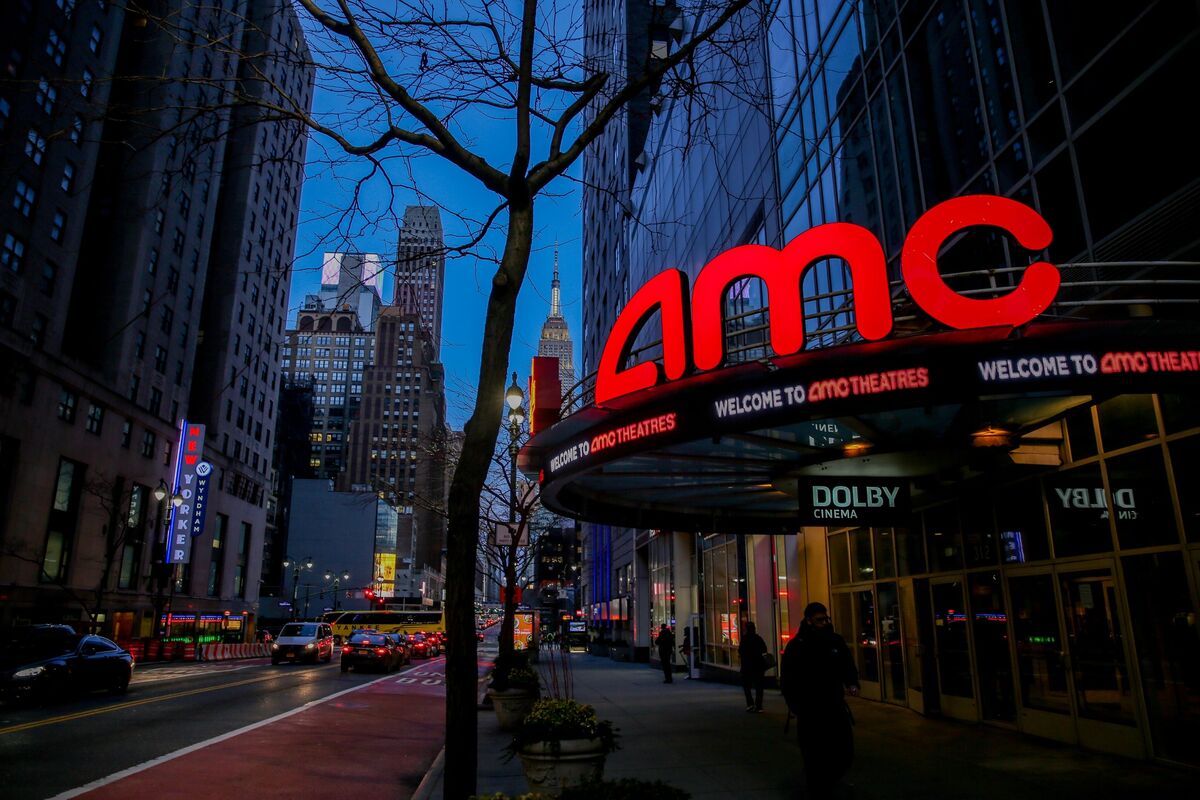 $AMC Stock: Reddit, Twitter Day Traders Bet They Can Outsmart Wall Street Pros
One works in the hedge fund industry in New York, the other in IT recruitment
One works in the hedge fund industry in New York, the other in IT recruitment in Dallas.
But in this season of meme stock mania — when fortunes can be made or lost with the next post on Reddit or Twitter or chats on Discord — the faraway worlds of Jason Mudrick and Drew Entler have collided in spectacular fashion.
And, for the moment, the IT guy may just be ahead. 
The point of contact: AMC Entertainment Holdings Inc., a darling of the Reddit day trader horde that has rallied almost 3,000 % this year. Just on Wednesday, the company's shares soared as much as 126% after jumping 23% a day earlier.
Entler, 34, first started buying shares in the cinema chain in January, driven more by FOMO, he says, than research. Going in because of the fear of missing out — this during the GameStop frenzy earlier this year — worked out poorly, however, with the stock quickly dropping from $17.50 to about $5.
But Entler, who's been trading for a couple of years and learned about it by reading and watching more videos than can be "considered healthy," kept faith. He snapped up $1,000 to $2,000 each month, he says, watching as the stock surged once again.
Mudrick, founder of a hedge fund specializing in distressed debt, was already involved in AMC. The company had been at serious risk of bankruptcy during the pandemic, with cinemas closed across the U.S. The firm disclosed in December it was burning cash and would soon run out, when Mudrick Capital Management promised to turn its debt holdings into equity.
In January, his hedge fund gained almost 10%, fueled partly by the deal, a symbiotic relationship between a hedge fund and the legions of day traders — a stark contrast to the war on short sellers and Wall Street institutions that characterized the GameStop mania.
But Mudrick wasn't finished. With the stock soaring — for reasons that flummoxed some investors — he struck an agreement for AMC to sell his firm 8.5 million shares of common stock at $27.12 apiece. The stock deal, disclosed Tuesday, would allow AMC to go on offense. It also came with an assurance that the shares would be "freely tradable," meaning the firm could sell them at any point or in any amount it chose.
The same day Mudrick did just that — liquidating its equity stake after concluding that AMC's stock is overvalued, propped up by day-trader enthusiasm, according to a person with knowledge of the matter.
The move infuriated some on social media, where Mudrick was called "overvalued" and a "piece of [expletive]." One commentator suggested creating a statue in honor of the investor, albeit in a urinal.
The stock was meant to then come down from its lofty heights. Instead it surged, and was up 86% at $59.73 as of 1:22 p.m. in New York on Wednesday.
Kyler Davis, 24, is one of those that saw more opportunity. He'd bought 15 shares last year when his friends told him about the stock, but added another share on CashApp after selling some Bitcoin. 
"It's a great company and just with all the stuff going on behind it and all the hedge funds trying to short us, we're worth more than people see or think we are," Davis said. 
Entler, meanwhile, bought 300 shares on Wednesday at $41, convinced that the increase in the price will force Wall Street trading desks to buy the stock to hedge options positions.
Also read: Meme Mania Rekindles Small-Trader Love Affair With Options
"I feel there's more room to run this week and next week. Next week I might think that $41 is a bargain," he said.
It's not a view shared by Wall Street. Of the nine analysts who cover the stock, four have the equivalent of a 'sell' rating on the stock and none recommend buying it. Their price targets range from as low as $1 to $16, according to data compiled by Bloomberg.
As to what Entler views of Mudrick's trade, he says, "I got a good laugh going to look at how their stock performed because it was down significantly."
— With assistance by David Gillen