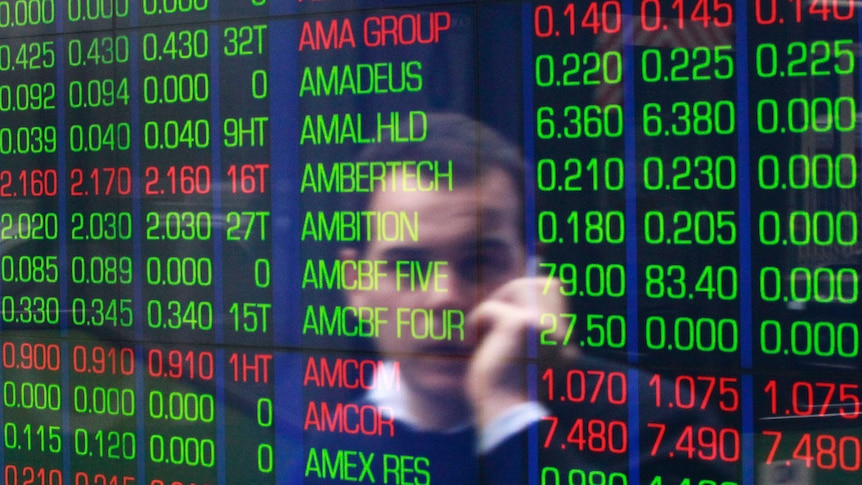 Australian shares hit another record high, Wall Street 'meme stock' AMC surges 96pc
Table of Contents Key points:Iron ore and retail spending boost economyIron ore price surgeWall Street
Australian shares have climbed to a record high for the second day in a row — amid optimism over the nation's economic recovery and expectations that stimulus and low interest rates will persist for years.
Key points:
ASX 200 reaches a fresh record closing high of 7,260 points
The benchmark index briefly touched an all-time high of 7,282 points at midday
Retail sales lifted by 1.1 per cent while strong commodity exports boosted Australia's trade surplus
The ASX 200 posted a record closing high of 7,260 points, after rising 0.6 per cent, thanks to surging oil and gas stocks.
However, the benchmark index briefly touched an all-time high of 7,282 points at midday, before investors decided to curb their enthusiasm slightly.
Many of the best performers were energy stocks, such as Worley (+7.7pc), Origin Energy (+6.2pc), AGL (+3.7pc), Beach Energy (+5.8pc), and Oil Search (+4.1pc) after oil prices surged to a 15-month high.
The big four banks provided the largest boost to the market, with strong gains for the Commonwealth Bank (+0.9pc), Westpac (+1.1pc), ANZ (+1.5pc) and NAB (+0.9pc).
On the flip side, CSR (-2.2pc), PointsBet (-4.2pc), Costa Group (-2.1pc), Adbri (-3.6pc) and Resolute Mining (-3.4pc) suffered heavy losses.
The Australian dollar slipped 0.4 per cent to 77.23 US cents.
Iron ore and retail spending boost economy
Consumers upped their spending in April and spent $31 billion at the shops, according to the latest Bureau of Statistics (ABS) data.
Retail sales lifted by 1.1 per cent, compared to the previous month, in line with market expectations.
Loading
But when compared with April 2020, it was an even more impressive result. Retail sales have surged 25 per cent since then, when much of Australia was plunged into strict COVID lockdowns.
"The main development in the month was a strong rise in spending on eating out (+2.3pc)," Commonwealth Bank economist Kristina Clifton wrote in a note.
"The biggest rise in eating out in the month was in NSW (+5pc), likely reflecting the success of the NSW Government's Dine and Discover vouchers.
"Despite the strong lift in April, spending on eating out in NSW is still lagging behind in the other states.
The ABS also published figures showing that the nation's trade surplus climbed to $8.03 billion in April.
Although this was just below economists' predictions, it was still a massive jump compared to the March trade balance (an upwardly revised $5.79 billion).
The result was driven by a big rise in Australian exports to overseas buyers (up 3 per cent to $39.7 billion), and a sharp fall in imports (down 3 per cent to $31.7 billion).
"Looking ahead we expect to see another solid trade surplus in May thanks to strong commodity prices," Ms Clifton said.
"The RBA's [Reserve Bank's] commodity price index showed a rise of 5.8 per cent in May. Coking coal, spot LNG [liquiefied natural gas], iron ore and gold prices were all higher in the month.
"We expect the iron ore price will begin to retrace some of the gains later this year as stimulus from the Chinese government is wound back and reduces the demand for iron ore."
Iron ore rose to $US209.19 a tonne (up 0.2 per cent), near last month's record high.
Wall Street now 'harder to surprise'
Wall Street posted very slim gains overnight ahead of key US economic data, out later this week, as investors weighed inflation concerns and a fresh surge in so-called "meme stocks."
A weekly unemployment report and May private payrolls data on Thursday will be followed by monthly jobs numbers on Friday.
Investors are on the lookout for signs of an economic bounce-back and any indication that the price of goods and services will start to become more expensive.
The Dow Jones index rose 25 points (less than 0.1 per cent) to close at 34,600. The S&P 500 and Nasdaq Composite gained 0.1 per cent each, finishing at 4,208 and 13,756 points respectively.
The benchmark S&P index has gained about 12 per cent this year, and within about 1 per cent of its record high, as investors anticipate an economic rebound from the coronavirus pandemic.
"After the fastest start to a bull market in history, we have seen expectations increase quite a bit so it's harder to surprise the market," said Keith Lerner, chief market strategist at Truist Advisory Services in Atlanta.
"After we have had that big run the last six or seven weeks the market has been in a trading range and you are consolidating those gains."
Concerns about whether inflation could prompt action by the Federal Reserve have consumed markets in recent weeks.
The US economic recovery accelerated in recent weeks even as a long list of supply chain troubles, hiring difficulties, and rising prices cascaded through the country, Fed officials said in their latest review of economic conditions.
'Meme stocks' rebound
Shares of US cinema chain AMC Entertainment jumped 95.2 per cent (to $US62.55), leading a surge in a group of stocks favored by retail investors on forums such as Reddit's WallStreetBets.
Loading
The massive rise in AMC's shares (by about 3,000 per cent this year) is beginning to resemble the wild ride in GameStop stock earlier this year.
Shares of the video game retailer rose more than 1,600 per cent in January, partly because bearish investors unwound their bets against the heavily shorted stock as buying surged.
Other so-called meme stocks touted on Reddit and other online forums, including security software provider BlackBerry and headphone-maker Koss Corp, also scored big gains.
On Wednesday, AMC chief executive Adam Aron, who has embraced the retail frenzy for his company's stock, offered free large popcorn to even the smallest investor who signs up for his company's regular newsletter.
Oil prices surge to 15-month high
The price of oil surged to its highest level since January 2020. Brent crude futures lifted to $US71.26 a barrel (up 1.4 per cent).
"The oil market welcomed the OPEC+ decision to stick with its existing production plan, and in conjunction with positive global demand indications, prices are gaining further today," said Louise Dickson, Rystad Energy oil markets analyst.
Expecting a recovery in demand, the Organization of the Petroleum Exporting Countries and its allies, together known as OPEC+, agreed on Tuesday to maintain their plan to gradually ease supply curbs through July.
The OPEC+ meeting took 20 minutes,  the shortest in the group's history, indicating unity among members and their confidence in the market's recovery, analysts said.
OPEC+ data shows the group is now more upbeat about the pace of rebalancing in the oil market than it was a month ago.